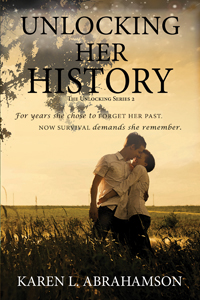 A sensitive healer bound by an ancient silver lock. Can Chloe Main free herself from her past before old darkness strikes?
Overview
As a runaway teen Chloe Main ended up on the seamier side of the street but escaped through the help of kindly New Age friends. Years later she has put her life together—almost. She still doesn't trust men and still doesn't trust herself around them, but she uses her New Age practices to center herself. When a robbery threatens the livelihood of Chloe and her friends, solving the case means she has to deal with hunky realist Detective Jas Stone who seems determined to be more to her than the investigator of the case. But the threat of more robberies might mask someone's darker motive—one that hinges on the mysterious silver bracelet Chloe now wears. It may take more than Jas Stone to protect her from them.
Karen L. Abrahamson returns readers to the magical, sun-filled Okanagan Valley, where ley lines give power to healing stones, and friendship and love are always the heart of living well.
Disclosure of Material Connection: Some of the links in the page above are "affiliate links." This means if you click on the link and purchase the item, I will receive an affiliate commission. I am disclosing this in accordance with the Federal Trade Commission's
16 CFR, Part 255
: "Guides Concerning the Use of Endorsements and Testimonials in Advertising."
Other Books in "The Unlocking (Peachland) Series":