Now Available: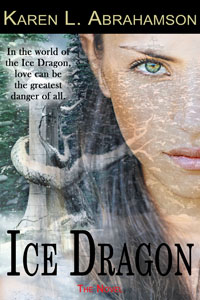 Ice Dragon: The Novel
By Karen L. Abrahamson
An ice-bound village, a threatening dragon, the walking dead and visionary dreams of true love fuel this tale of adventure in the wintery landscape of  Gruenheld.
When threatened with marriage to a village elder, seventeen-year-old   Jazella of Gruenheld takes matters into her own hands. She sets out to reclaim the treasure that will buy her freedom and to find the man who has haunted her dreams all her life. To do so she must face the dragon who has stolen Gruenheld's wealth and risk bringing the creature's wrath down on her family's village.
But dreams aren't always true. It will take all of Jazella's strength to escape the nightmarish dead who walk the night and to face a secret truth older than Gruenheld.
Available on Amazon, Smashwords, Kobo and at other fine e-tailers.
And coming soon in Paperback.