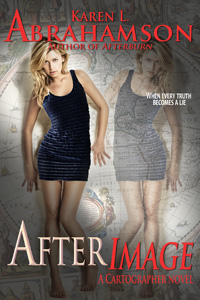 Afterimage – $18.99 print//$6.99 e-book
Karen L. Abrahamson
With the destruction of the American Geological Survey complete and the Gifted and their power no longer a secret, all Gifted must choose to fight or flee. The mortally wounded agent Vallon Drake and her friends run for the border, desperately hoping for the help of the ancient Cartographers who, so far, have considered the Gifted far beneath their notice.
But dealing with the Cartographers reveals a personal history that Vallong never wanted to know. When those responsible for the AGS's destruction find a way to block the Gifted's power, Vallon must overcome her past to face a threat that will destroy not just the Gifted, but all life on earth.
Karen L. Abrahamson delivers another breakneck adventure that leaves the reader gasping in this fourth book of the American Geological Survey. With its twists and turns and memorable characters, Abrahamson delivers an ending that begs for "just one more".
Available as an e-book here:
Amazon
Barnes and Noble
Kobo
Smashwords
iBook
Available in print, here.